Category Archives:
Uncategorized
The United States is currently experiencing a large, multi-state outbreak of measles linked to an amusement park in California. The outbreak started in December 2014 and has spread to more than a dozen other states. CDC urges healthcare professionals to consider measles when evaluating patients with febrile rash and ask about a patient's vaccine status, recent travel history, and contact with individuals who have febrile rash illness.
More
Clinical Features
Measles is an acute viral respiratory illness. It is characterized by a prodrome of fever (as high as 105°F) and malaise, cough, coryza, and conjunctivitis -the three "C"s -, a pathognomonic enanthema (Koplik spots) followed by a maculopapular rash. The rash usually appears about 14 days after a person is exposed; however, the incubation period ranges from 7 to 21 days. The rash spreads from the head to the trunk to the lower extremities. Patients are considered to be contagious from 4 days before to 4 days after the rash appears. Of note, sometimes immunocompromised patients do not develop the rash.
CDC's Dr. Jane Seward describes measles clinical features and what to do if a healthcare provider suspects measles, in this 5-minute video.
The Virus
Measles is caused by a single-stranded, enveloped RNA virus with 1 serotype. It is classified as a member of the genus Morbillivirus in the Paramyxoviridae family. Humans are the only natural hosts of measles virus.
Background
In the decade before the live measles vaccine was licensed in 1963, an average of 549,000 measles cases and 495 measles deaths were reported annually in the United States. However, it is likely that, on average, 3 to 4 million people were infected with measles annually; most cases were not reported. Of the reported cases, approximately 48,000 people were hospitalized from measles and 1,000 people developed chronic disability from acute encephalitis caused by measles annually.
Advice for Travelers
Plane flying around globeCheck that your patients 6 months of age or older who will be traveling internationally are protected against measles.
Travel Notice: Watch (Level 1): Measles in the Philippines
More
In 2000, measles was declared eliminated from the United States. Elimination is defined as the absence of endemic measles virus transmission in a defined geographic area, such as a region or country, for 12 months or longer in the presence of a well-performing surveillance system. However measles cases and outbreaks still occur every year in the United States because measles is still commonly transmitted in many parts of the world, including countries in Europe, Asia, the Pacific, and Africa. An estimated 20 million people become infected with measles worldwide each year, of whom 146,000 die.
Since 2000, when measles was declared eliminated from the U.S., the annual number of cases has ranged from a low of 37 in 2004 to a high of 644 in 2014. The majority of cases have been among people who are not vaccinated against measles. Measles cases in the United States occur as a result of importations by people who were infected while in other countries and from transmission that may occur from those importations. Measles is more likely to spread and cause outbreaks in U.S. communities where groups of people are unvaccinated.
Outbreaks in countries to which Americans often travel can directly contribute to an increase in measles cases in the United States. In recent years, measles importations have come from frequently visited countries, including, but not limited to, England, France, Germany, India, and the Philippines, where large outbreaks were reported.
Top of Page
Complications
Common complications from measles include otitis media, bronchopneumonia, laryngotracheobronchitis, and diarrhea.
Even in previously healthy children, measles can cause serious illness requiring hospitalization.
One out of every 1,000 measles cases will develop acute encephalitis, which often results in permanent brain damage.
One or two out of every 1,000 children who become infected with measles will die from respiratory and neurologic complications.
Subacute sclerosing panencephalitis (SSPE) is a rare, but fatal degenerative disease of the central nervous system characterized by behavioral and intellectual deterioration and seizures that generally develop 7 to 10 years after measles infection.
People at High Risk for Complications
People at high risk for severe illness and complications from measles include:
Infants and children aged 20 years
Pregnant women
People with compromised immune systems, such as from leukemia and HIV infection
Transmission
Measles is one of the most contagious of all infectious diseases; approximately 9 out of 10 susceptible persons with close contact to a measles patient will develop measles. The virus is transmitted by direct contact with infectious droplets or by airborne spread when an infected person breathes, coughs, or sneezes. Measles virus can remain infectious on surfaces and in the air for up to two hours after an infected person leaves an area.
Diagnosis and Laboratory Testing
Healthcare providers should consider measles in patients presenting with febrile rash illness and clinically compatible measles symptoms, especially if the person recently traveled internationally or was exposed to a person with febrile rash illness. Healthcare providers should report suspected measles cases to their local health department within 24 hours.
Laboratory confirmation is essential for all sporadic measles cases and all outbreaks. Detection of measles-specific IgM antibody and measles RNA by real-time polymerase chain reaction (RT-PCR) are the most common methods for confirming measles infection. Healthcare providers should obtain both a serum sample and a throat swab (or nasopharyngeal swab) from patients suspected to have measles at first contact with them. Urine samples may also contain virus, and when feasible to do so, collecting both respiratory and urine samples can increase the likelihood of detecting measles virus. For more information, see Measles Lab Tools.
Top of Page
Evidence of Immunity
Acceptable presumptive evidence of immunity against measles includes at least one of the following:
written documentation of adequate vaccination:
one or more doses of a measles-containing vaccine administered on or after the first birthday for preschool-age children and adults not at high risk
two doses of measles-containing vaccine for school-age children and adults at high risk, including college students, healthcare personnel, and international travelers
laboratory evidence of immunity
laboratory confirmation of measles
birth in the United States before 1957
Healthcare providers should not accept verbal reports of vaccination without written documentation as presumptive evidence of immunity. For additional details about evidence of immunity criteria, see Table 3 in Prevention of Measles, Rubella, Congenital Rubella Syndrome, and Mumps, 2013: Summary Recommendations of the Advisory Committee on Immunization Practices (ACIP).
Vaccination
Measles can be prevented with measles-containing vaccine, which is primarily administered as the combination measles-mumps-rubella (MMR) vaccine. The combination measles-mumps-rubella-varicella (MMRV) vaccine can be used for children aged 12 months through 12 years for protection against measles, mumps, rubella and varicella. Single-antigen measles vaccine is not available.
One dose of MMR vaccine is approximately 93% effective at preventing measles; two doses are approximately 97% effective. Almost everyone who does not respond to the measles component of the first dose of MMR vaccine at age 12 months or older will respond to the second dose. Therefore, the second dose of MMR is administered to address primary vaccine failure [1]
Vaccine Recommendations
Children
CDC recommends routine childhood immunization for MMR vaccine starting with the first dose at 12 through 15 months of age, and the second dose at 4 through 6 years of age or at least 28 days following the first dose.
Students at post-high school educational institutions
Students at post-high school educational institutions without evidence of measles immunity need two doses of MMR vaccine, with the second dose administered no earlier than 28 days after the first dose.
Adults
People who are born during or after 1957 who do not have evidence of immunity against measles should get at least one dose of MMR vaccine.
International travelers
People 6 months of age or older who will be traveling internationally should be protected against measles. Before travelling internationally,
Infants 6 through 11 months of age should receive one dose of MMR vaccine
Children 12 months of age or older should have documentation of two doses of MMR vaccine (the first dose of MMR vaccine should be administered at age 12 months or older; the second dose no earlier than 28 days after the first dose)
Teenagers and adults born during or after 1957 without evidence of immunity against measles should have documentation of two doses of MMR vaccine, with the second dose administered no earlier than 28 days after the first dose
Healthcare personnel
Healthcare personnel should have documented evidence of immunity against measles, according to the recommendations of the Advisory Committee on Immunization Practices[48 pages].
For more information, see measles vaccination recommendation.
Footnote
CDC. Prevention of Measles, Rubella, Congenital Rubella Syndrome, and Mumps, 2013: Summary Recommendations of the Advisory Committee on Immunization Practices (ACIP). MMWR 2013;62(RR04);1-34.
Top of Page
Post-exposure Prophylaxis
People exposed to measles who cannot readily show that they have evidence of immunity against measles should be offered post-exposure prophylaxis (PEP) or be excluded from the setting (school, hospital, childcare). MMR vaccine, if administered within 72 hours of initial measles exposure, or immunoglobulin (IG), if administered within six days of exposure, may provide some protection or modify the clinical course of disease.
MMR vaccine as post-exposure prophylaxis
If MMR vaccine is not administered within 72 hours of exposure as PEP, MMR vaccine should still be offered at any interval following exposure to the disease in order to offer protection from future exposures. People who receive MMR vaccine or IG as PEP should be monitored for signs and symptoms consistent with measles for at least one incubation period.
If many measles cases are occurring among infants younger than 12 months of age, measles vaccination of infants as young as 6 months of age may be used as an outbreak control measure. Note that children vaccinated before their first birthday should be revaccinated when they are 12 through 15 months old and again when they are 4 through 6 years of age.
Except in healthcare settings, unvaccinated people who receive their first dose of MMR vaccine within 72 hours after exposure may return to childcare, school, or work.
Immunoglobulin (IG) as post-exposure prophylaxis
People who are at risk for severe illness and complications from measles, such as infants younger than 12 months of age, pregnant women without evidence of measles immunity, and people with severely compromised immune systems, should receive IG. Intramuscular IG (IGIM) should be given to all infants younger than 12 months of age who have been exposed to measles. For infants aged 6 through 11 months, MMR vaccine can be given in place of IG, if administered within 72 hours of exposure. Because pregnant women might be at higher risk for severe measles and complications, intravenous IG (IGIV) should be administered to pregnant women without evidence of measles immunity who have been exposed to measles. People with severely compromised immune systems who are exposed to measles should receive IGIV regardless of immunologic or vaccination status because they might not be protected by MMR vaccine.
IG should not be used to control measles outbreaks, but rather to reduce the risk for infection and complications in the people receiving it. IGIM can be given to other people who do not have evidence of immunity against measles, but priority should be given to people exposed in settings with intense, prolonged, close contact, such as a household, daycare, or classroom where the risk of transmission is highest.
After receipt of IG, people cannot return to healthcare settings. In other settings, such as childcare, school, or work, factors such as immune status, intense or prolonged contact, and presence of populations at risk, should be taken into consideration before allowing people to return. These factors may decrease the effectiveness of IG or increase the risk of disease and complications depending on the setting to which they are returning.
The recommended dose of IGIM is 0.5 mL/kg of body weight (maximum dose = 15 mL) and the recommended dose of IGIV is 400 mg/kg.
Post-exposure prophylaxis for healthcare personnel
If a healthcare provider without evidence of immunity is exposed to measles, MMR vaccine should be given within 72 hours, or IG should be given within 6 days when available. Exclude healthcare personnel without evidence of immunity from duty from day 5 after first exposure to day 21 after last exposure, regardless of post-exposure vaccine. [2]
Footnote
Siegel JD, Rhinehart E, Jackson M, Chiarello L, and the Healthcare Infection Control Practices Advisory Committee, 2007 Guidelines for Isolation Precautions: Preventing Transmission of Infectious Agents in Healthcare Settings.
Top of Page
Isolation
Infected people should be isolated for four days after they develop a rash. Healthcare providers should follow respiratory etiquette and airborne precautions in healthcare settings. Regardless of presumptive immunity status, all healthcare staff entering the room should use respiratory protection consistent with airborne infection control precautions (use of an N95 respirator or a respirator with similar effectiveness in preventing airborne transmission). Because of the possibility, albeit low, of MMR vaccine failure in healthcare providers exposed to infected patients, they should all observe airborne precautions in caring for patients with measles. The preferred placement for patients who require airborne precautions is in a single-patient airborne infection isolation room (AIIR).
People without evidence of immunity who have been exempted from measles vaccination for medical, religious, or other reasons and who do not receive appropriate PEP within the appropriate timeframe should be excluded from affected institutions in the outbreak area until 21 days after the onset of rash in the last case of measles.
Treatment
There is no specific antiviral therapy for measles. Medical care is supportive and to help relieve symptoms and address complications such as bacterial infections.
Ah, such mysterious, wondrous creatures are nurses. What treasures lurk beneath those crisp, white uniforms….What young man doesn't have fantasies of discovering those secrets for himself. SCREEEEEECH!!!!!!!!!!!!! Reality check!
I've been married to a nurse for more than a quarter of a century, and let me tell you, nurses are not what you expect (and I don't even care what you expect, because you are wrong)!
Let's begin by tearing down some of the more famous assumptions about nurses right off the top:
The Nurse as Sex Kitten:
Any man who lived through the early seventies or has made it a point to rent such famous videos as "Night Duty Nurses" or "Student Nurses" or "Night Duty Student Nurses" or any one of several dozen nurse-centric skin flicks will mmediately believe that all nurses have heaving bosoms, just millimeters away from popping out of skin tight white uniforms. You will also believe that nurses always wear white garters, fishnet hose, and stilettos. This, of course, is a handy dress code because movie nurses spend *a lot* of time hopping in and out of patient's beds.
The reality is that most nurses wear scrubs – Shapeless, draping hunks of cotton that could cause you to breeze past Pamela Anderson without a second look. Shoes are white and chunky with blobs of things on them better left Unexplored. Socks replace white hose and garters, and when is the last time Anyone saw a nursing cap? Graduation, perhaps?
The Nurse as an Angel:
If you want to hear the latest gross jokes, just find a nurse. Some uninformed males seem to think of nurses as angelic creatures: demure and loving, a cross between a nun and their mom. Well, hate to bust your bubble, guy, but as a group, nurses are some of the rawest folks you'll ever run into. I don't care how sweet and demure they may look on the outside; inside is someone who has seen things that would gag a maggot, break your heart, or Drive a normal person nuts. So most nurses develop a very wicked sense of humor squarely lodged in the black-to-sick side of the scale.Also, in case you are looking for angelic sympathy for the little boo-boo you had in the shop, forget it! Let's say as a typical male klutz, you manage to saw your finger off. You go running to your nurse wife who is on the phone with a nurse friend of hers. As she continues to talk to her friend, she gives the stub a good eyeballing, slaps a towel on it, takes out a baggy to put the severed digit in, and tells you to get some ice while she is explaining to her friend that her dummy husband just sawed his finger off. As you stand there bleeding profusely for 15 minutes she calmly finishes her conversation as though nothing is going on until finally she says, "Well I guess I better get him to the hospital."She hangs up the phone, looks at you, sighs and calmly says, "Let's go."
You have just learned an important lesson. On the nurse scale of emergencies, yours is about a minus 9! As my wife has told me, "when you are on a ventilator, with six drips running, your head down and your feet up, then you're sick. Anything less than that isn't worth getting excited over!"
The Nurses Mutual Benefit Network:
As a male either dating or married to a nurse, you should realize one important thing. There are nurses everywhere. That, in itself, is no big deal. The fact is, every nurse knows other nurses who know more nurses, so that by the time you are finished, a nurse on the Island Nation of Chuuk who observes you doing something you shouldn't has the immediate capability of getting word to your wife. This system is way more reliable and efficient than the Internet and has existed for a much longer time. Take it for
granted that your nurse wife will know about anything you have done, good or bad, before you get home!
Your Social Life with Nurses:
Nurses hang out with other nurses and soon you may find that all your friends are married to nurses. The reason this happens is because in situations where nurses mingle with nonmedical folks things can get ugly. For example, you are out to dinner with your nurse wife, another nurse couple, and two civilian couples. The nurses sit and chat, discussing fun things like bleeding bowels, open sores, how much fat was sucked out of some patient, projectile vomiting, traumatic amputations, etc., all over a nice pasta dinner. The nurses carry on talking as the civilian couples turn funny colors, make faces and suppress their gag reflexes (and this is if the nurses don't have any really gross things to share like the homeless guy with maggots in his bleeding sores)!
After several dinners and gatherings like this, you will soon find your circle of friends has shrunk significantly. The key to avoiding this is to do the following: Never go out in mixed groups with more than one nurse. A lone nurse is OK. The trouble starts when you have more than one, and when that happens, keep the regular folks away. Also get used to the idea that some friends and neighbors will take advantage of the fact that your wife is a nurse by calling at all hours of the day and night for advice. This may include male friends "dropping by" to show your sweetie his rash. The best
advice I can give is to just deal with it and hope it isn't contagious.
Nurse: The Health Ramifications
Most nurses have been described as having the constitution of horses, which isn't true because I've been around horses and they get sick more often. The reason for this is pretty simple. After about 3-5 years on the job, nurses have been exposed to so many bugs that they either end up dead or full of every antibody known to mankind. (If you want the ultimate booster shot, just get a blood transfusion from a nurse who's worked in a hospital for 20 years!) You don't have all these antibodies, though, so when she does come home with mild sniffles, a week later you're flat on your back with the worse case of the flu of your life!! Oh, and if you are the least bit squeamish, don't even think about the bugs she brings home on her clothes. It will mess with your mind as she talks about her Resistant TB patient, the patient full of body lice, or the one with poison ivy in his mouth! So don't
ask.
Conclusion:
Ah such mysterious, wondrous creatures are nurses.
You know, they really are and I thank God every day for my nurse!
Last edit by Joe V on Dec 5, '14
How do you know you're a nurse? Here are 16 surefire ways to tell!
1. When you show up to work on your off day for a 7 a.m. mandatory meeting:
2. When you arrive at work the next day, bright-eyed and bushy-tailed:
3. Two minutes later…when things get real and you start to regret your decision to get out of bed:
4. When the attending physician writes an order that makes absolutely no sense, no matter how many times you read it:
5. When your patient starts having family drama and you wonder if anyone remembers you're still in the room:
6. When you try to send secret messages to your nurse buddy without anyone else seeing:
7. When you realize that you'll never get used to smelling C. diff. Never: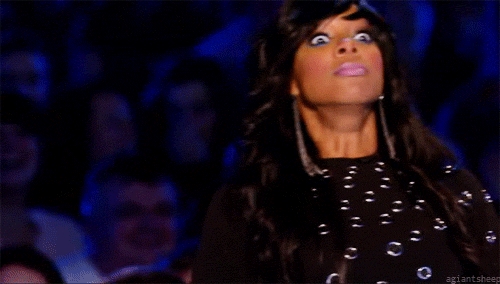 8. When you're overwhelmed and the charge nurse tries to assign you "just ONE more" patient:
9. When you hand over a patient to the incoming nurse and neglect to mention that he/she is a complete train wreck:
10. When you accidentally let unpleasant thoughts slip out of your mouth (hey, it happens when you're hungry and sleep-deprived!):
11. When a patient starts a sentence with "Well, WebMD said…":
12. When you start to wonder what will make you snap first, hunger or fatigue:
13. When you finish your shift, but lack the energy to make it out of the front door on your own: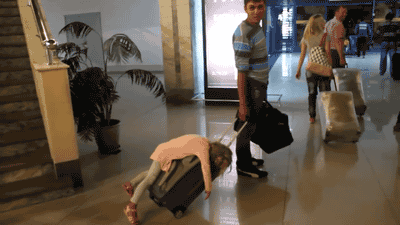 14. When you get home and try to make sense of your day: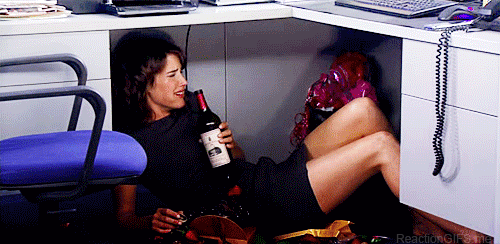 15. When you wake up the next morning and realize that you have to do it ALL over again:
16. When you remember that you're an amazing nurse and no matter what you go through, it's ALL worth it!